m-Postbank gives you the opportunity to conveniently make you everyday bank operations from any place you would like, with the only help of your smartphone.
We know how busy life can be, so in order it easier we have created the mobile banking app – m-Postbank. With the app on your smartphone you are able to make bank transactions from anywhere at any time. Banking is in the palm of your hand!
Download m-Postbank: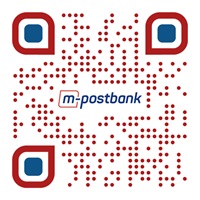 Using m-Postbank not only saves you money with cheaper bank fees, but also presents you with best gift – saving time, which you use to spend with your friends and family or on your favorite hobbies.
With its modern design, convenient navigation and useful functionalities our mobile app will become your true support in the banking experience.
What can you do in the m-Postbank app?
Some of the main functionalities you are able to do with only your smart phone:
Information about all you bank products in Postbank

Transfer money between your accounts

Third party transfers inside and outside Postbank

Pay your utility bills to more than 200 suppliers in different categories (Water supply, energy supply, internet, TV and many more)
Pay your taxes to more than 25 municipalities

Credit and credit card repayments

Receive push notifications for new utility bills without logging in the app

Easy log in options – with PIN or biometrics

Information about current currency rates and currency calculator

Find the closest offices and ATMs, opening times and contact information
When you download the app, you can open Demo version where you can try out the functionalities and useful tips for working with it.
In order to use the mobile app, you will need your username and password used for entering the internet banking e-Postbank.

Menu "Products" –

you will find information for all registered in the internet banking system products including current accounts, deposits and credits in Postbank. You can check your balance, movements in accounts, repayment schedule for credits, as well as dates for upcoming repayment on credits.
Menu "Cards" –

there is information about all the registered in the internet banking system debit and credit cards in Postbank. You can check movements and transactions, and also make repayments

.
Menu "Transfers" –

you will see information about canceled, pending and archived payments on your accounts in Postbank.

From this menu, you are able to make transfers between your accounts in the bank, payments to third party accounts in the bank or other bank up to a certain limit, as well as repayments on credit cards and credits in Postbank.
Menu "Utility"

– you will find information about utility payments registered in the internet banking system, as well as history for completed payments. On the icon of the menu, a number is visualized, showing how many unpaid utility bills you have and will disappear once you have paid them. By using this many, you can create a list of utility bills and make payments for due amounts.
Technical requirements
In order to use m-Postbank you will need a mobile device with at least OS Android 5.1 or Apple iOS 11.
You will also need access to internet by Wi-Fi or mobile internet. To use m-Postbank with mobile internet please check your individual plan with your mobile operator.