Dimitar Shoumarov
Member of the Management Board, Executive Director and Chief Financial Officer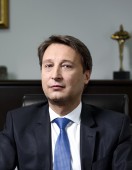 Dimitar Shoumarov joins Postbank's team in July 2012 as an Executive Director and Chief Financial Officer of the financial institution.
Prior to his appointment at Postbank he worked at the United Bulgarian Bank for 16 years, where he was promoted from Head of the Financial Control Directorate to Chief Financial Officer of UBB. As CFO of UBB for the last 4 years Mr. Shoumarov has been in charge of the Bank's overall financial management, as well as the management and coordination of business planning and budgeting process.
His banking and financial experience is complemented by his knowledge obtained through the various positions he held before his long-lasting career at UBB. In the period 1992-1996 he has consecutively been a member of the Board of Directors of Commercial Bank Biochim, Chairman of the Supervisory Board of Sofiabank, Economic Analysis and Forecasting Director at the Bank Consolidation Company, etc.
Before entering the banking sector, Mr. Shumarov worked at the Budget Policy Department in the Ministry of Finance, where he participated in the development of the conceptual macroeconomic framework for the consolidated state budget. He also specialized at the Macroeconomic Projects and Development Department of the State Planning Committee in the Ministry of Economy and Planning. He spent there 6 years, participating in the development of numerous projects among which input-output balance, planned balance of the capital investments, planning the structure and the dynamics of the aggregate social product and the national revenue, and many more.
Dimitar Shoumarov graduated from the University of National and World Economy with a Masters degree in Socio-economic Planning, and was also an associate assistant at the Marketing and Strategic Planning Department.
Currently Mr. Shoumarov is a Member of the Directors of Bulgaria's CFO Club.