Dimitar Shoumarov
Member of the Management Board, Executive Director and Chief Financial Officer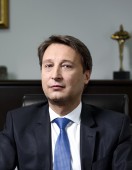 Dimitar Shoumarov graduated from the University of National and World Economy with a Master's degree in Socio-Economic Planning and later was a lecturer in the Marketing and Strategic Planning department.

Before entering the banking sector, he worked and specialized in managing Macroeconomic Projects and Developments at the State Planning Committee, State Planning Commission, and the Ministry of Economy and Planning. He participated in numerous projects and contributed to developing methodologies for various macroeconomic balance proportions and indicators. From 1990 to 1992, he worked in the Budget Policy Department of the Ministry of Finance, where he contributed to developing the conceptual macroeconomic framework for constructing the consolidated state budget.

His career in the banking sector began in 1992 at BSI Mineralbank as an expert and later as a deputy director in the Economic Studies and Financial Policy Directorate. From 1994 to 1995, he served as the Director of Economic Analysis and Forecasting at the Banking Consolidation Company and, as its representative, was a member of the Board of Directors of Commercial Bank Biochim and Chairman of the Supervisory Board of Sofiabank. In 1995, he was elected as a member of the Board of Directors and Executive Director of Balkanbank.

From the end of 1996, he worked for 16 years at the United Bulgarian Bank as the bank's Chief Financial Officer. There, he established the overall financial management of the bank, as well as the management and coordination of the business planning and budgeting process, project management, and various other banking functions and processes.

In July 2012, Dimitar Shoumarov joined the team of Postbank as an Executive Director, Chief Financial Officer, and member of the Board of Directors of the financial institution. Under his leadership, Postbank successfully acquired and integrated two banks (Alfa Bank – Bulgaria Branch and Piraeus Bank Bulgaria) in a record time, solidifying its position as a systemic bank in the market and expanding its customer base. Dimitar Shoumarov actively participates in projects related to the digitization of the banking sector in Bulgaria.

He is the recipient of the CFO of the Year award presented by EY and Forbes magazine, as well as the Burov prize from the Atanas Burov Foundation for banking management. In late 2021, Dimitar Shoumarov was awarded the Banker of the Year for his consistent and sustained contributions to the development of Postbank over the years, as well as its social commitment.