Panagiotis Mavridis
Member of the Management Board and Chief Operating Officer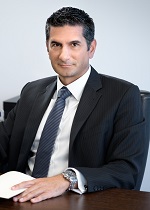 Mr. Mavridis is a member of the Management Board of Eurobank Bulgaria AD and the Chief Operating Officer (COO) of the Bank. He joined the team of Postbank in June 2019.
He has more than 20 years of professional experience in Banking undertaking various managerial positions in Greece.
He is a member of the Bank's Executive committee, actively participating in strategic and operational decisions made at the very top management level with main mandate to best contribute to the strategic goals and financial results of the Bank.
His responsibilities include managing and overseeing Bank's Central Operations and Loan Administration functions.
Before joining the team of Postbank in Bulgaria, Mr. Mavridis had a close cooperation with the bank in his capacity of Country Executive (Bulgaria) in the International Activities General Division of Eurobank.
During this period, his role in Postbank becoming the most profitable subsidiary of Eurobank Group was instrumental. He was the Project Manager of the acquisition of the two competitive banks in Bulgaria, Alpha Bank branch and Piraeus Bank Bulgaria, leading a local team of more than a hundred employees to very profitable, flawless and rapid mergers.
Panagiotis Mavridis graduated from the University of Piraeus in Greece with a Masters degree in Financial Analysis, and University of Patras in Greece with a BCs in mathematics while he is a certified derivatives trader by ATHEX.