Petia Dimitrova
Chairperson of the Management Board and Chief Executive Officer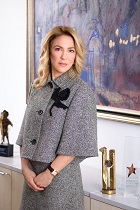 Mrs. Petia Dimitrova is Chief Executive Officer and Chairperson of the Management Board of Postbank (under the legal name Eurobank Bulgaria AD). She joined the team of Postbank in 2003 as Country CFO for the eight affiliated companies of Eurobank EFG Group in Bulgaria. In 2005 was appointed Procurator of the Bank. In 2007 she was appointed Executive Director and Member of the MB of DZI Bank. After the legal merger of DZI Bank and Postbank she became Executive Director and Member of MB of the unified bank. In 2012, Mrs. Dimitrova became Chief Executive Officer and Chairperson of the Management Board of Postbank.
Under her leadership, Postbank completed in just a few years two successful deals, the acquisition and integration in a record short-term time of Alfa Bank - Bulgaria Branch, followed by Piraeus Bank Bulgaria. They are another step to strengthen its position as a systemic for the bank market and to expand its customer base.
Mrs. Dimitrova began her career in 1996 at the Consular Department of the US Embassy. Then, in 1998-2003, she worked at PricewaterhouseCoopers as Senior Manager and Senior Auditor.
She is a chartered accountant, qualified ACCA member of the Association of Chartered Certified Accountants (ACCA) in London, UK. Mrs. Dimitrova has an Executive MBA in General Management from the University of Sheffield, UK and holds two Master Degrees in Finance and Banking and Tourism from the University of National and World Economy and Sofia University St. Kliment Ohridski. In addition, she is a graduate of ALBA Leadership Development Program, Harvard; holds a Certificate of Merit from Georgetown University Leadership Seminar, Washington D.C. and graduated Management and Social Development of NGOs at the Aristotle University of Thessaloniki and University of Macedonia, Greece. She also holds certificates for successful completion of the program "Harvard Business School" in 2018, 2019, 2020, 2021 and 2023, and Said Business School, University of Oxford in 2022.
Mrs. Dimitrova has acquired her professional qualifications in UK, Greece, Holland, Belgium, USA and Bulgaria, and has participated in various prestigious international trainings, seminars and conferences.
Mrs. Dimitrova is Chairperson of the Board of the Association of Banks in Bulgaria. She is a Member of the Management Boards of "Atanas Bourov" Foundation, Endeavor Bulgaria Association, the International Banking Institute. She also is a Chairperson of the Board of Directors of Hellenic Business Council in Bulgaria, member of the Management Board of CEIBG and Member of the University Council of the American University in Bulgaria. Petia Dimitrova is a Member of the Industrial Advisory Board - CITY College, International Faculty of the University of Sheffield, Young Presidents' Organization (YPO), Young Global Leaders Forum, part of the World Economic Forum, Gerson Lehrman Group Accounting Council London, UK, Fellow Member of the Chartered Management Institute, UK and Cofounder of the Public Council of Women in Business.
Mrs. Dimitrova has received many awards, including the prestigious recognition "Mrs. Economy" in "Mr. and Mrs. Economy" competition organized by CEIBG and Economy Magazine (2015, 2018); award by "Atanas Bourov" Foundation for Banking and Financial Management (2017); the Special "Banker of the Year" Awards by Banker weekly in 2012, 2015, 2017, 2019, 2020 and 2022; "Woman of the Year" in Business category by Grazia magazine (2014); two Silver Stevie Awards – "Female Executive of the Year in Europe, the Middle East and Africa" and "Female Executive of the Year – Consumer Services with up to 2,500 employees" (2013); "Banker of the Year 2012" by Banker weekly; "Mrs. Economy 2012" for her contribution to the development of the banking sector; one of the Young Global Leaders honorees for 2012, distinguished by the Forum of Young Global Leaders part of the World Economic Forum; International Faculty Distinguished Alumni Award from The University of Sheffield (2011); Businesswoman of the Year (2010); the Grand prize in the Bulgarian annual contest for young managers "Next generation" (2009) by Capital weekly; and many others.
Under her leadership Postbank won nearly 100 prestigious international and Bulgarian awards, including gold in "Excellence in Customer Centricity or Customer experience" category in one of Europe's most prestigious competition in the banking sector – The Retail Banking: Europe 2019 Awards. Also "The Best Retail Banking in Bulgaria" award in 2018, 2019, 2020, 2021 and 2022, "Best Consumer Digital Banks, Bulgaria 2021" award and "Best Mobile Banking Apps, Bulgaria 2021" award from the London-based World Finance Magazine, "Bank of the Year" 2019 and 2021 at the Annual Bank Awards, Best Employer Awards, and many more. Postbank was distinguished as a Top Employer in Bulgaria with a certificate from the international independent Top Employers Institute. The award is given for its innovative vision and high standards in implementing globally recognized employer practices in human resource management, care for people, working conditions, employee personal and professional development programs, among others.
In 2021, for the tenth time, the prestigious global magazine for capital markets, asset management and investment Global Custodian named Postbank as the best custodian bank in Bulgaria. Also in 2021, Postbank was awarded for the seventh time with the high distinction of the European Bank for Reconstruction and Development - the award for "The most active bank in Bulgaria in trade finance for 2020".
Among the awards won are also Employer of the year, numerous awards for best CSR projects and many more.